Report: 'Green' jobs outpacing traditional ones
The "green" energy and transportation sector is emerging as a vital part of the US economy, though still small compared with oil and gas, says a new study.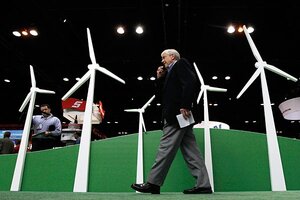 M. Spencer Green/AP/File
"Green jobs" are growing nearly 2-1/2 times as fast as traditional jobs, finds a new study by Pew Charitable Trusts. The study, released Wednesday by Pew as the first ever count of such jobs in all 50 states, concludes that the clean energy economy, while still in its infancy, "is a vital component of America's new economic landscape."
The Pew study looked at jobs created between 1998 and 2007. Since then the overall job market, especially in traditional manufacturing, has shrunk while the investment in wind farms, solar projects, and pollution mitigation has fared better.
Moreover, the growth of green jobs is an important part of President Obama's jobs agenda, with billions of dollars allocated for green energy and transportation programs in the $787 billion economic stimulus package.
"The clean energy economy is poised for explosive growth," said Lori Grange, interim director of the Pew Center on the States in a statement. "These jobs are driving economic growth and environmental sustainability at a time when America needs both."
However, despite the faster growth rate, the number of green jobs remains much smaller than those in the fossil-fuel sector.
---