Are ethics too expensive?
Hard-hit firms are cutting training. But hard times are when workers need it most.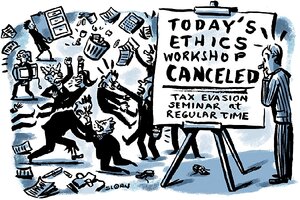 Michael Sloan
After a raft of early-decade scandals like Enron and Worldcom, an embarrassed corporate America built and developed programs to encourage high ethical standards in the workplace. Now recession is pressuring those same companies to trim those programs.
They aren't really mission-critical, the thinking goes. You can always catch up on training next year.
There's just one problem.
Stressful periods – like the great recession of 2008-09 – are precisely the times when managers and employees most need a little help to keep them on the straight and narrow.
"In a time where the economy is bad and corporations are struggling to survive, there is more temptation to cut corners and step over the ethical line than there is in other times," says Michael Hoffman, executive director of Bentley University's Center for Business Ethics in Waltham, Mass.
There's some statistical evidence to back this up. Workplace misconduct tends to increase by at least 11 percent during periods of turmoil, including times of layoffs and budget cuts, according to a 2008 report by the Ethics Resource Center in Arlington, Va.
---