ECONOMIC SCENE: How recession has changed the immigration debate
Politics, economics, demographics all come into play.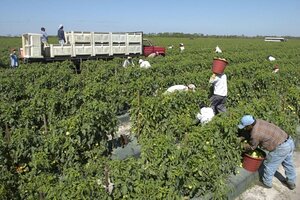 Bill Serne/ St. Petersburg Times/ Newscom/ File
The deep US recession has had one effect that polls say would please most Americans: Illegal immigration is falling.
More illegal immigrants are leaving. Fewer people are sneaking in – perhaps 200,000 a year instead of 500,000 in recent years, estimates Steven Camarota, an economist at the Center for Immigration Studies in Washington. Thus, America's illegal population has fallen from about 12 million in February 2007 to almost 11 million this February, he calculates.
So when immigration becomes a hot topic again – as it will, inevitably – will the recession have shifted the terms of the debate?
In some ways, yes. The US slump proves that immigration is sensitive to economic conditions. It also weakens the argument of pro-immigration forces that there are some jobs Americans won't do. Mr. Camarota finds that claim "absurd on its face."
He points to a newly available sampling of 4.7 million workers in 465 occupations, a massive survey that asks respondents whether they were born in the US. The US-born already hold a clear majority of jobs people often regard as being left to immigrants, such as housekeeping and grounds-maintenance workers. Only in picking fresh produce do immigrants hold a small majority.
Of course, economics is just one component of the immigration debate. Politics plays a huge role.
For example: some 1 million immigrants become US citizens every year. About 300,000 more of them become Democrats than Republicans.
That advantage could be one reason that House Speaker Nancy Pelosi, a Democrat, has blocked several immigration-control bills from coming to the floor, says Roy Beck, executive director of NumbersUSA, a nonprofit advocate for cutting immigration.
---