Consumers less gloomy, but they're still inclined to save
Household incomes went up in May, buoyed by the stimulus, but consumer spending still lags.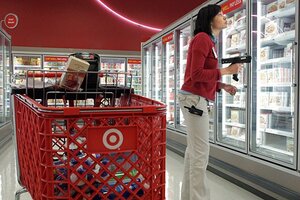 Charles Rex Arbogast/AP/FILE
American consumers are feeling better – but not a whole lot better off – as a giant stimulus program begins to take effect.
Economic reports Friday showed a rise in consumer sentiment and a stimulus-fueled gain in household incomes. The numbers don't signal a quick rebound from recession, but they do suggest that President Obama's $787 billion stimulus plan is having an impact on Main Street.
Personal income rose in May despite rising unemployment and a decline in employer wages since last fall, according to a Commerce Department report. The stimulus is a key reason, helping to increase disposable incomes by lowering taxes and providing more payments through programs such as unemployment insurance.
If the stimulus is providing a cushion, Americans are still on edge financially. They feel the pressure to save, more than an urge to spend.
"Consumers have become convinced that the steepest economic declines are now over, but very few consumers anticipate a quick end to the recession," economist Richard Curtin said in a statement releasing the Reuters/University of Michigan Surveys of Consumers.
The survey's gauge of consumer sentiment edged up to a level of 70.8. That's well above where the index stood a year ago, at 56.4, but still reflects considerable financial stress. The index stood at 97 in January 2007, before the recession began.
Meanwhile, the Commerce Department said personal incomes rose 1.6 percent in May, while personal spending rose 0.3 percent. Instead of spending their new income, households pushed the savings rate up to 7 percent of disposable income.
---