Rise of the 40-something intern
Some mid-career professionals are moving forward by starting over.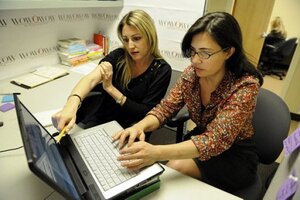 Mary Knox Merrill/ Staff
While she was a student at the University of Arizona, Patty Fernandez never had a chance to intern. But two decades later, she's doing just that.
Laid off from her copy-editing job last summer at Standard & Poor's and seeing her freelance work dwindle, Ms. Fernandez applied for an unpaid internship at the website start-up company wowOwow.com, an online community for women. "I was really attracted by the possibilities and being able to do something that I didn't necessarily have experience [in]," she says of the Internet-publishing venture.
Perhaps it's a sign of the times. The internship role, once reserved for college students and entry-level candidates, is attracting mid-career professionals eager to retool their skills. With 7 million jobs lost since the beginning of the recession, internships are becoming a sought-after way to reenter the job market.
"There are a lot of adults who are out of work, a lot of adults who want to transition into second careers – and an internship is the best way to get a foot in the door and ... learn about a new industry," says Lauren Berger, founder of InternQueen.com, a website devoted to college internships.
---