Madoff gets 150 years for 'extraordinarily evil' crime
The harsh sentence is meant to send a message, but is that necessary?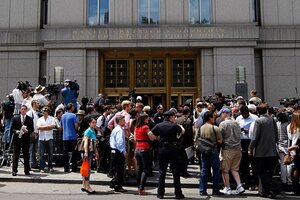 Mike Segar/REUTERS
The 150-year sentence handed down to Bernard Madoff – mastermind of the largest Ponzi scheme in modern history – is the third-largest in the annals of US financial fraud.
Mr. Madoff's sentence, delivered by a federal court in New York, is six times longer than what was meted out to the top executives of WorldCom and Enron Corp. – two of the notable recent financial scandals.
Some lawyers praise Judge Denny Chin's decision Monday as an important symbolic show of justice. Others criticize it as "absurd" given Madoff's advanced age. But many of his victims simply welcomed it as a relief.
"I cried when I heard it, I felt justice had been done," says Karen Audet, a retired school teacher from Ft. Lauderdale,Fla., who lost her $225,000 pension in an investment fund organized by a member of her church, who had invested it with Madoff's company.
In March, the New York and Palm Beach-based swindler pleaded guilty to a laundry list of fraud charges in what could amount to a $65 billion swindle of wealthy friends and associates, other investment firms, and some internationally-known philanthropies.
---