New budget year finds many states still scrambling
Some will need to make midyear cuts, beyond what they've sliced from their budgets already, say fiscal experts.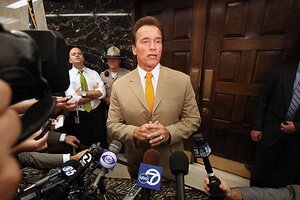 Rich Pedroncelli/AP
States across the US are in budget trouble, because the recession has caused tax revenues to plunge.
As many states rolled over into a new budget year Wednesday, nearly a dozen were scrambling to bridge gaps in their finances.
Indiana was among those that succeeded in their last-minute efforts. But some of the largest states – California, Illinois, Pennsylvania, and Ohio – were still grappling with fiscal emergencies as the calendar rolled into July.
As people and companies earn less, states collect less
Tax collections fell sharply during the 2009 fiscal year just ended on all fronts. Revenues from sales taxes were down 3.2 percent from 2008, from personal income taxes 6.6 percent, and from corporate tax payments 15.2 percent, according to estimates by the National Governors Association. That reflects the nature of the current recession, which has caused consumers to retrench, capital gains for investors to evaporate, and business profits to shrink.
In this tough climate, states have already taken major actions to cut spending or tap new revenue sources. But more measures are expected in the next year or two, because state budgets often feel the pinch of a recession even once the economy recovers.
The tax crunch for states became especially deep early this year, as Americans finalized their tax returns 2008, according to a June survey by the Nelson Rockefeller Institute of Government in Albany, N.Y.
"This [pattern] increases the risk that state budget agreements for 2009-10 will not close budget gaps completely, and that states will need to make midyear budget cuts," Lucy Dadayan and Donald Boyd said in the report.
---
Follow Stories Like This
Get the Monitor stories you care about delivered to your inbox.