Bankruptcy judge approves plan for a smaller GM
Groups opposed to the decision have until Thursday to appeal it.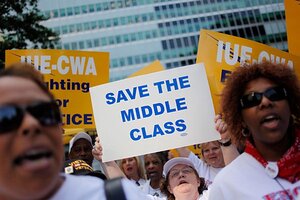 Seth Wenig/AP
With the decision by a US bankruptcy judge that General Motors can sell most of its assets to a new company, the American automaker can now start to figure out how to put a Chevrolet, Buick, Cadillac, or GMC in every garage.
The garage, however, will not have a Hummer, Saturn, or Pontiac. Instead, those are "old assets" that GM will either sell or close.
What all this means is that when GM emerges from its speedy trip through bankruptcy court, which can happen after any appeals, it will be a smaller company. Scores of GM plants will be shut down. The company has already said it plans another round of white-collar layoffs, and dealerships with low sales volume have already been told they are out. Moreover, GM, which prides itself on its global nature, will try to sell Saab and a part interest in Opel. [Editor's note: The original version misspelled Opel.]
"It's losing volume from some big mistakes like Pontiac and Saturn," says Bruce Belzowski, associate director of the Automotive Analysis Division at the University of Michigan's Transportation Research Institute in Ann Arbor. "They will be smaller in the US."
---