When careers need reinvention
Innovative collaborations between schools, workforce developers, and industry are helping to educate adult workers for the new jobs communities need.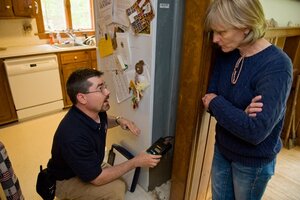 Mark Knox Merrill / Staff
HYANNIS, Mass. - When Steve Burke took stock of his career prospects on the sandy peninsula of Cape Cod, Mass., the most promising path he saw was green. His steppingstone to a new line of work? A course on energy efficiency at Cape Cod Community College.
"Driving a school bus, even though it's rewarding to some degree, it's basically just going in circles," says Mr. Burke, a former teacher who had relocated and spent five years in that decidedly yellow job. "I really saw that ... more people were embracing renewable energies…. So I decided to take the initiative and get more education."
He dived into a series of classes on renewable energies, and last fall, while observing a home energy audit, he connected with a local auditing company that was seeing a spike in demand. Within a few weeks Burke was hired, conducting up to four audits a day with RISE Engineering. "Financially, it's both more [pay] and more secure than what I've had in the past," he says.
There's something to be said for being in the right place at the right time. But Burke wouldn't have been able to align himself so easily with the new economy had there not been a collaboration building for several years on the Cape among educational institutions, workforce-development officials, and industry groups to prepare people to fill the green jobs on the horizon.
Throughout the country, such innovative partnerships – with community colleges often at the hub – are under way not just in the environmental sector, but also in the life sciences, healthcare, and other fields where job prospects are expected to stay strong or grow, thanks in part to the flow of federal stimulus dollars.
---