GM's eBay plan: What about the dealers?
eBay has been selling used cars for years, but laws currently prohibit direct sales from manufacturers.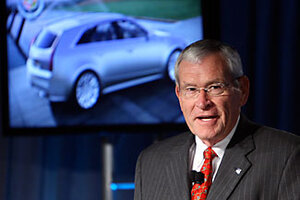 Robert Harbison / The Christian Science Monitor
As an example of how General Motors plans to be more adaptable, chief executive Frederick Henderson said Friday that the just-out-of-bankruptcy company is in discussions with eBay, the online auctioneers, to begin an experiment to sell vehicles in California.
While it might be an experiment for GM's top brass, eBay has been listing cars for sale for the past 10 years on its website, eBay Motors. According to eBay, more than 30,000 franchise and independent dealers, including some GM dealers, have been listing used and certified pre-owned vehicles for sale. Last year, eBay reached 3 million vehicles sold since the website started.
So, what's new?
GM may be trying to figure out how to sell new vehicles – not used ones – on the website, say auto analysts.
State franchising laws currently prohibit the sale of new cars direct from the manufacturer through auction sites such as eBay, says Jack Nerad, executive editor of Kelley Blue Book in Irvine, Calif.
---