Would a CIT failure derail the economy?
Plans for a government bailout of small-business lender collapsed Wednesday.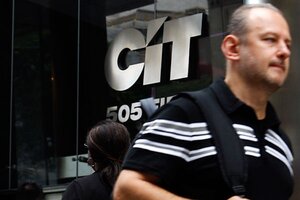 Brendan McDermid/Reuters
CIT Group, a major lender to small and mid-size businesses, is now closer to bankruptcy with the collapse of its efforts on Wednesday night to get a government bailout.
If CIT fails, what impact would it have on the economy?
Hundreds of thousands of small businesses would have to scramble to find a new lender, analysts say. Some stores may have bare shelves for the holiday season unless they get a new source of funding, one group also warns.
But analysts don't think the demise of CIT will derail the economic recovery.
"It could show up as a small blip on the economic radar screen," says Fred Dickson, chief investment strategist at D.A. Davidson & Co. in Lake Oswego, Ore. 'It's big enough to be seen but not big enough to cause people to feel the economic recovery is derailed."
One of the most likely ways a possible CIT bankruptcy could affect the economy is to add to the unemployment rate, Mr. Dickson says.
"There could be a few hundred thousand people looking for work over the next couple of months," he says. "It all depends on how willing community banks and other banks are willing to step in and provide funding to the former CIT clients."
On Thursday, CIT was still alive after negotiations with the government broke down on Wednesday evening. According to some reports, CIT was talking to some private equity groups about an investment. But if the investment does not materialize, some analysts expect CIT to file for bankruptcy before the weekend.
---