CIT plight hints at more bankruptcies ahead
According to Standard & Poor's, 181 companies this year have defaulted on their debt – four times the number last year.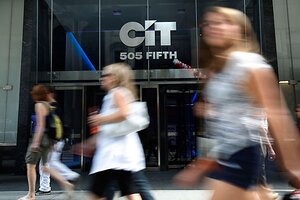 Seth Wenig/AP
The drama unfolding around the efforts to save commercial lender CIT Group is likely to be repeated many times this year as other American corporations, faced with a heavy load of debt, go to the precipice of bankruptcy.
In an indication of the rising toll of the recession on business, rating agency Standard & Poor's (S&P) expects corporate defaults on risky, non-investment grade bonds to rise from 4.5 percent today to 14 percent by June next year. In the last recession, the agency says the default rate reached a high of 10 percent.
Moody's, another rating agency, expects the rate this time to be the highest since the Great Depression.
The debt crunch could have some bad consequences. To avoid defaulting, companies may reduce their payroll expenses, curtail their expansion plans, and pare their own purchases back.
"It does have a negative impact on the economy," says Mark Zandi, chief economist at Moody's Economy.com.
In past recessions, excessive corporate borrowing contributed to the downturn. That's not the case this time. "Going into the recession, the non-financial companies had the best balance sheet," says Mr. Zandi. "But the severity of the recession is undermining their financial health too."
Companies on "credit watch"
---