ECONOMIC SCENE: Obama takes first step to redistribute wealth
Modest effort may still face still opposition in Congress.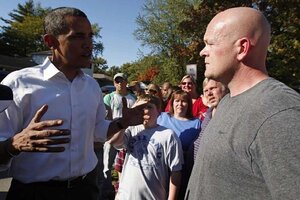 Jim Young / Reuters / File
In a now-famous exchange with "Joe the Plumber" last fall, presidential candidate Barack Obama got a lot of scrutiny for saying: "When you spread the wealth around, it's good for everybody."
Conservatives scoffed. GOP rival John McCain painted him as "redistributionist in chief." Now the redistributionist has proposed a budget that moves some money from the very rich to the poor and middle class. Is that a bad thing?
Some numbers to consider:
•From 1979 to 2006, the richest 1 percent of US households more than doubled their share of the country's total income from about 10 percent to nearly 23 percent. By 2006, for every dollar the US produced, 23 cents went to millionaires in the top-earning households.
•During that same period, about 91 percent of all the nation's income growth went to the top 10 percent of households by income.
•In the new century, most families have experienced stagnant or falling incomes.
The United States has "the highest [income] inequality by far in our history and among advanced nations," says Lawrence Mishel, president of the Economic Policy Institute in Washington and an author of the biennial book, "The State of Working America," which contains the numbers above.
President Obama's budget aims to change that, modestly. The top 1 percent of families would lose some 3 percent of their present share of income by 2012, according to a study by economists at the business-friendly Tax Foundation. That still leaves the top 1 percent way ahead in their share of total income than in any year under President Reagan, who pushed tax cuts for the rich in the 1980s as a way to boost economic growth.
---