When 'B' means better
'B Corporation' status reveals commitment to benefiting others.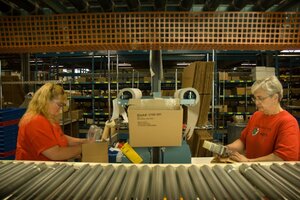 Joanne Ciccarello / Staff
NORWICH, VT. - Considering an expansion of their baking-ingredients plant in historic Norwich, Vt., the managers of King Arthur Flour are asking the hard questions: What are the investment's risks? How long before it pays for itself? What about the trees?
Yes, trees.
It turns out that King Arthur – America's oldest flour company – would probably have to clear some woods to expand its facility. And the company looks out for its 248-year-old community. It does this not just because it wants to, but because it has to.
Nearly two years ago, employee-owned King Arthur changed its company charter to include a promise to make decisions based not only on the interests of its employee-shareholders but also its business partners, and even the environment. It is one of 200 "B Corporations" – B as in "for benefit" to society – in the United States that have made their charters more inclusive and, in the process, are creating the foundations for a new kind of corporation.
"It's really asking us to consider something broader than our bottom line," says Allison Furbish, spokeswoman for King Arthur. "Once we've said we're holding ourselves accountable to this and built this into the guiding principles and documents of our company, then we really do have to be committed to it."
Along the way, these B Corporations are discovering rewards that seem to come with pushing the envelope. They're also grappling with perceived risks that lead some to warn of possible legal dangers down the line. For San Francisco-based Clean Fish, a distributor of sustainably harvested seafood, adopting B Corporation status brought a quick payoff. The firm needed start-up financing. When a socially conscious venture capital fund looked at its charter, committing the company to do right by its suppliers and by the world's oceans, it was happy to oblige.
---