Home sales up. Has the market bottomed out?
Sliding prices helped push sales up for the third straight month in June. But foreclosures are expected to rise again.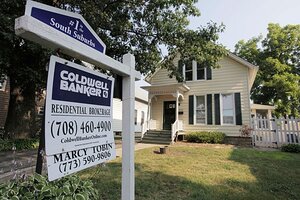 M. Spencer Green/AP
For months, the housing market has been one of the weakest links in the US economy.
Now, in a good sign for the economy, it appears that's no longer the case.
Another sign of this improvement came on Thursday when the National Association of Realtors (NAR) reported that in June, for the third month in a row, sales of existing homes rose and inventory continued to decline.
"Housing has been overhanging the economy for the last 2-1/2 years. Now, we are seeing the bottom has been reached," says Joel Naroff of Naroff Economic Advisors in Holland, Pa. "This is good for consumer confidence. This is good for the markets."
The stock market rose in response to home sale reports Thursday morning, with the Dow Jones industrial average up 201 points at 9,083.
One of the main reasons for the improvement in home sales is the continuing slide in prices. According to the NAR report, the median existing-home price was $181,800 in June, down 15.4 percent from a year ago. On a national basis, distressed properties represented some 31 percent of all sales.
"We're seeing price drops in many of the bubble markets of 30 percent to 50 percent off 2005 peak prices," says Jack McCabe, a housing expert at McCabe Research & Consulting in Deerfield Beach, Fla. "So homes are now much more affordable."
But foreclosures may continue to increase, especially as unemployment, now at 9.5 percent, goes up.
Foreclosures may pick up again
---