Laid-off Wall Streeters find entrepreneurial spirit
A small-business incubator in New York steps up to rival collaborations in Boston and Silicon Valley.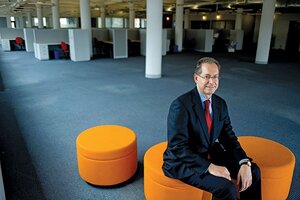 Ann Hermes/The Christian Science monitor
With thousands of Wall Street go-getters out of work, New York has a plan: Make it easier for them to channel their inner entrepreneur.
The city is opening up a small-business incubator just a few subway stops from the financial district. This is where anyone who has a fledgling plan for a small business can apply to set up shop and get off the ground.
What makes the incubator attractive is its low rent – far lower than the cost of most office space in New York City. Also, with multiple endeavors under one roof, the workers can compare notes and feed off one another's energy.
A few perks come with the space, too. The Bill Gates-wannabes will have Bloomberg machines, which provide extensive business data. And the entrepreneurs can get an assist from interns – students from a university.
The city wants the incubator to scale up and up, with the ultimate goal of challenging America's leading entrepreneurial and incubator centers.
"Given the scale of New York and [its] economy, we are hitting below our weight compared to other centers like Boston and Silicon Valley," says Seth Pinsky, president of the city's Economic Development Corp., which is spearheading the effort. "We want to start to carry the weight that is appropriate given the size of the city and our economy."
---