Obama's China task: Fix imbalanced trade ties
The old model of Americans consumers buying up Chinese goods isn't working. Where the relationship goes from here could effect the pace of a global recovery.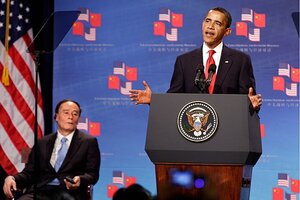 J. Scott Applewhite/AP
Remaking the US-China economic relationship could hold the key to getting the world economy on a sounder footing.
For years, these two nations have operated on the premise of imbalanced commerce: China would keep making more goods, and Americans would keep buying them.
Now, a deep recession has exposed problems with that model. A fix won't happen overnight, but it's part of the agenda for both sides as US and Chinese leaders hold a "strategic economic dialogue" in Washington Monday and Tuesday.
Even if an economic recovery gets under way in coming months, American consumers can't afford to keep buying Chinese-made goods the way they did earlier this decade. And Chinese leaders don't want to tether their economic prospects so closely to US consumers – and to the uncertain value of the US dollars flowing to China for each container-load of appliances or clothing.
"The model has definitely changed," says Tu Packard, who tracks the global economy at the consulting firm Moody's Economy.com in West Chester, Pa. "We see some gradual life returning to the [US] consumer, but it's not going to be the way it was before. And the Chinese know this."
---
Follow Stories Like This
Get the Monitor stories you care about delivered to your inbox.