ECONOMIC SCENE: US living standards may languish even after recession
Sluggish growth could last for decades, economists say.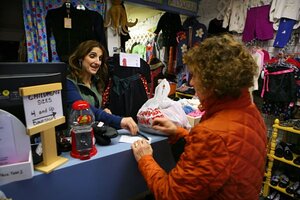 Melanie Stetson Freeman / Staff
Once the great recession ends, don't break out the party hats. What follows it could be a period of growth so weak that the average American's standard of living may not reach its 2007 level for years.
Americans will have "to live a little differently," says Harald Malmgren, a Washington economic consultant. He forecasts that the United States economy will not bounce back to the 3 or 4 percent average real annual growth rate for gross domestic product (GDP – the output of goods and services) that has prevailed for several decades. Rather he sees "sluggish growth" for not just a year or two, but possibly decades. That means consumers' discretionary purchases are going to be "pretty limited," he adds.
Other economists agree. The US will "not get back to its peak years for a decade or so," says A. Gary Shilling, a consulting economist in Springfield, N.J.
Every downturn has its share of doom-sayers. But even a cheerier economist, Nariman Behravesh, of IHS Global Insight in Lexington, Mass., doesn't dismiss the idea of a lower US standard of living. He forecasts a modest GDP growth rate of 2.5 to 3 percent a year, not enough to bring down unemployment to a reasonable rate soon.
The concern that these economists share is that confidence-shaken Americans have switched from a habit of spending like crazy to saving like crazy. So domestic consumption will not give the economy a big surge of growth in the near future.
---