US economy still contracting, but at slower pace
Second quarter GDP declined by 1 percent, compared with 6.4 percent in the first quarter. Will economic recovery be stronger than expected in the second half of the year?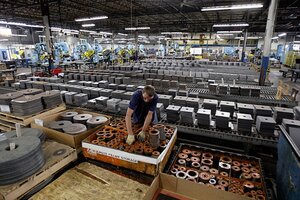 Jeff Roberson/AP
It looks as if the worst of the Great Recession is finally behind the nation.
On Friday, the Commerce Department reported that second quarter Gross Domestic Product (GDP), a broad measure of the nation's production of goods and services, declined by a 1 percent annual rate.
This was a big improvement over the first quarter, which was revised downward to a drop of 6.4 percent annual pace compared with an earlier estimate of 5.5 percent. The sharp change is prompting some economists to wonder if the economic rebound in the second half might be stronger than expected.
"When you get a steep downturn, typically you get a robust recovery," says John Canally, chief economist at LPL Financial in Boston.
President Obama  seized on the report Friday, telling reporters at the White House that the steps his administration has taken helped "put the brakes on the recession."
But, he also said, the sharp revisions downward indicated "the recession we faced when I took office was even deeper than anyone thought at the time."
The stock market appeared to take the news in a positive fashion. As of 1:45 p.m., the Dow Jones Industrial Average was up about 35 points to the 9189 level.
---