Next big global market: Unhappy women
A new study shows that women's economic clout is growing, but they are also more stressed. Tools to help women manage their lives will be an enormous business opportunity.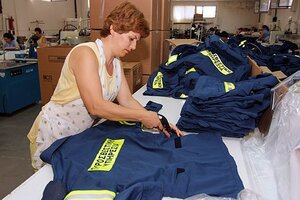 Reuters/File
In the United States and elsewhere, women say there is a gender gap that goes beyond differences in pay between men and women – there's also a gap between women's progress and their own hopes and expectations.
That's the conclusion of a newly released survey of 12,000 women in 21 nations.
As women work more and grow more educated, they are becoming more economically powerful. But that isn't buying happiness. The new survey, conducted by the Boston Consulting Group, finds that many females globally say they are overworked, overextended – and desperate for more time to manage their lives.
Some 48 percent of those surveyed say they feel pressure related to managing household finances. A similar percentage cite the stress of juggling a busy schedule.
The poll offers a window on gender roles in the economy at a time when the economic clout of women is growing. According to Boston Consulting Group, a global management consulting firm, women spend more than 70 percent of consumer dollars worldwide and will create 70 percent of global income growth at the household level during the next five years.
The survey included the United States, many developed countries in Europe, and a range of other nations including Brazil, China, India, Japan, Mexico, and Turkey.
It comes during a recession that, in America at least, has been particularly hard on men. Layoffs in fields like manufacturing and construction have pushed the jobless rate for men to 10.6 percent, while unemployment rate for women is 8.3 percent.
That big of a gap in favor of women is a new phenomenon not seen in past recessions. But if men are bearing the brunt of job losses, the strain on family incomes is affecting women as well.
The challenges for women appear to be rooted more in long-term trends than in current economic conditions, however.
---