Recession pummels South's 'miracle' economy
With seven states now seeing double-digit unemployment rates, the region is feeling some of the costs of a low-wage economy.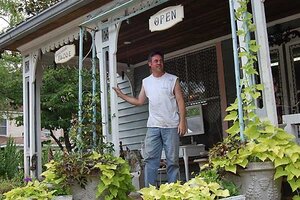 Patrik Jonsson / The Christian Science Monitor
An afternoon train clunks by in the distance. Steve Hill gathers his thoughts as he closes up his feed shop. He has bad news for his employees, and the next morning he will deliver it.
"Saturday has been a big cash day for us, because a lot of hunters and fishermen come through," says the Sparta shopkeeper and county commissioner, his tired eyes lit by a red Georgia sunset. "But it's been slow. I think people's unemployment benefits are finally drying up. The fact is, we have to cut back, starting tomorrow."
Over the past few decades, millions of Americans moved to the South's big cities and even deeper into the region, drawn by low taxes, light regulations, and easy living. But the underbelly of the Southern "miracle" – a low-wage workforce employed largely by timber groups, service industries, and light manufacturing - is being exposed by recessionary rollbacks in home-building and car manufacturing.
Eight Southern states are seeing unemployment and work-hour cutbacks rising faster than the national average and seven states now have double-digit unemployment rates. That's putting pressure on governors and legislatures to expand historically meager unemployment benefits and raise taxes – part of the political upheavals riding the economic tides from Sparta to Washington.
The situation is particularly harsh in Hancock County, Ga., which, along with its neighbor, Warren County, now faces 20 percent unemployment – the highest in the state. Dwindling timber taxes means the county can't even afford to maintain some of its 400 miles of dirt roads.
---