ECONOMIC SCENE: 'Tax me,' some rich Americans tell Obama
Petition is one sign that the idealistic wealthy are not a small minority.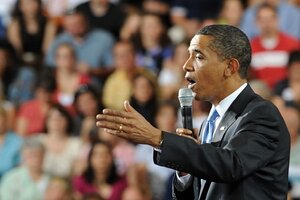 Jewel Samad / AFP / Newscom
Raise my taxes, says millionaire Chuck Collins.
The scion of the Oscar Mayer family supports a House panel's healthcare plan that would boost taxes for families earning more than $350,000 a year. He also advocates ending the Bush tax cuts for the rich right away, rather than when they expire at the start of 2011, and closing foreign tax havens to Americans.
Although the financial burden would be sizable, Mr. Collins is busy urging other wealthy Americans to sign a tax-me petition.
"The good news is there are still people out there willing to pay for the common good," says Collins, whose nonprofit Wealth for the Common Good is collecting the names.
As of July 21, some 210 wealthy people had signed. Collins hopes to get more than 1,000 signatures before delivering it to President Obama and House leaders.
The idealist wealthy are "not as small a minority as one might think," says Eric Schoenberg, an investor and Columbia University Business School professor, who also signed the petition.
It is "reasonable and fair" for "the people who have done best out of the economic system in the last 20 years" to pay in extra taxes the bulk of the cost of healthcare reform, says Mr. Schoenberg. "Healthcare ought to be a basic right of citizenship."
---