Ford revs up production to meet 'Cash for Clunkers' demand
Other carmakers are also likely to ramp up production, a move that will help the wider economy.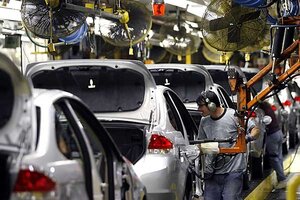 Gary Malerba/AP/File
Carmakers are starting to boost production again, restocking dealerships in a move that could give a boost to the whole US economy.
The shift from idle mode to expansion mode became official Thursday, as Ford Motor Co. said it is ramping up production levels by 10,000 vehicles in the current quarter and raising production in the year's final quarter as well.
Ford isn't the only carmaker that needs to rev up the pace on its assembly lines, because the government's 'Cash for Clunkers' stimulus program has worked faster than expected to deplete dealership inventories. And as factories hum faster, that has a ripple effect beyond Detroit. It means new orders for struggling auto-supply firms, more demand for rail and trucking firms, and more money being spent in affected communities on everything from French fries to fishing lures.
The clunkers program, which gives car shoppers a pile of cash if they trade in an old fuel-hog for a new, more efficient car, is also increasing sales activity at dealerships, helping towns across the US.
"It has a trickle down effect," says Aaron Bragman, an industry analyst at IHS Global Insight in Detroit. In a modest way "it gets the economy moving again."
The effect is biggest in automotive states, mainly in the Midwest and South. But to some extent it's nationwide. Mr. Bragman says the clunkers program has had some of its biggest impacts on dealerships in the Northeast.
---