Tough times lead to more worker furloughs – just ask Chicago
Tightening belts this way costs businesses and government less than layoffs. But it's tough on families.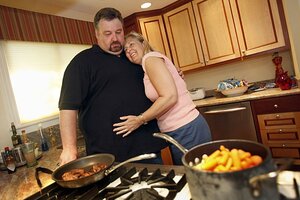 Tony Avelar/The Christian Science Monitor
For millions of Americans, this might be the year of the furlough.
Over the course of a month or so, workers – both white-collar and blue – may have to take several days off whether they want to or not. Call it a temporary pay cut – an action that is sold by management as a way to help save some jobs.
It is a phenomenon that is coursing through the workplace, especially in state and local governments. Although companies tend to do mass layoffs, there is a growing trend to impose private-sector furloughs, especially for the white-collar workforce.
On Monday, the doors to City Hall, libraries, and health clinics across Chicago remained locked for the first of three furlough days the city has scheduled for 2009. Officials estimate the restricted-service days will save the city $8.3 million.
For some people who get furloughed, it can be a major financial penalty. But for others, it beats the alternative: getting laid off.
"It's a financial burden none of us would want even in rich, fat times," says Bill Kahnweiler, an associate professor of human resources at Georgia State University in Atlanta. "But relative to getting laid off and losing the job, I'd rather get furloughed, knowing I could come back."
Although the Bureau of Labor Statistics (BLS) doesn't keep track of furloughs as a separate category, it says there has been a sharp increase in the number of workers who are working part time or have involuntarily reduced hours. In June, some 6,783,000 workers reported they were working part time because of business conditions, compared with 3,905,000 last year.
---