US cars are finally a match for Asian autos, consumers say
In a survey of customer satisfaction, American-made brands pull even for the first time in a decade. GM's Cadillac ties for first place.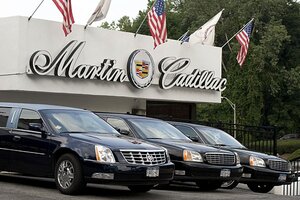 Don Emmert/AFP/FILE
American consumers are more satisfied than ever before with the vehicles they drive, and for the first time in a decade they're as satisfied with US brand names as with Asian ones.
That's the conclusion – pleasing for Detroit and perhaps shocking to some car owners – of a newly released annual survey from the University of Michigan.
The upbeat survey results come even though the auto industry is in the midst of wrenching cutbacks in factories and brands. American brands scored some of the strongest gains, with Ford leading the way for the Detroit-based manufacturers.
Many foreign nameplates also showed improvement, pushing the overall satisfaction ranking for cars to a record level of 84, up from 82 the previous year. The survey asks consumers to rate their satisfaction on a scale from 1 to 100.
The results suggest that consumers may be reaping a benefit from fierce competition in the automotive sector, which has improved quality as well as led to some price discounts. But in part, the researchers say, the results also depict the recession's toll on car sales. As the least-satisfied customers exited the market, the ones who remain are on average more satisfied, say researchers who conducted the American Customer Satisfaction Index (ACSI) survey.
---