Public service is cool again
Peace Corps and others see '60s-style interest from recent grads.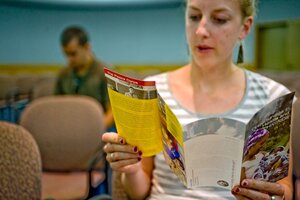 Ann Hermes / The Christian Science Monitor
Prashanth Gubbala always expected to help save the world – just not right away.
That's why last year he landed his first out-of-college job with the boutique investment-banking firm Canaccord Adams in Boston. He worked 90-hour weeks. He targeted his climb up the corporate ladder as a way to get the financial means and influence to help others.
But when he got a pink slip – along with other new hires – and ran into a family acquaintance he'd met at her going-away-to-the-Peace-Corps party, he was primed to follow his dream, too.
In investment banking, "you're not doing anything that contributes to the world," says Mr. Gubbala, who joined the Peace Corps and hopes to consult and teach in Eastern Europe. "This was my opportunity to change and get out."
Gubbala is joining tens of thousands of recent graduates opting to work in public service, part of a generational shift similar to the one seen after President Kennedy called for service and began the Peace Corps in 1961. The Peace Corps, which funnels nearly 8,000 Americans a year to underdeveloped countries for two-year volunteer stints, has seen a 24 percent surge in applications in the first half of 2009 compared with the same period two years ago. Its stateside corollary AmeriCorps and Teach for America, which places college graduates in K-12 teaching positions across the country, have seen even bigger increases. (See chart.)
---
Follow Stories Like This
Get the Monitor stories you care about delivered to your inbox.