New credit-card rules: How do they affect you?
Provisions in a new consumer-protection law take effect Thursday. Phase 2 kicks in next February.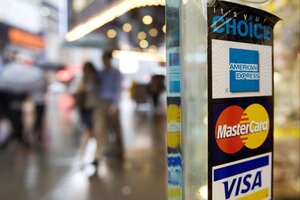 Mark Lennihan/AP/FILE
Starting Thursday, credit-card users are getting more time to avoid late fees and maybe rate hikes.
A new consumer-protection law won't lift all debt burdens, by any means, but supporters call it a victory against some of the most abusive practices of the bank-card industry.
Here's a rundown on what the Credit Card Accountability, Responsibility, and Disclosure Act means to you, both right now and in February when Phase 2 takes effect.
First, the immediate impact:
• You'll get at least 45 days' notice of any significant changes in card terms, with the option to decline a rate increase (you would pay off the balance over time at the original rate, while using those 45 days to switch to another card company for your future charges).
• You'll have at least 21 days' notice to pay your bill, before a late fee will kick in. Until now, some companies raked in extra fees by narrowing the time between billing and the payment due date. Now, three weeks is the minimum.
• For now, it means rising interest rates, as card issuers take advantage of the window before new limits go into effect in February (see below).
• It's not part of the new law, but now is the time to pay down debt if you can, says Greg McBride of Bankrate.com, which follows consumer credit conditions. Certain consumer-unfriendly practices may be ending, but credit-card debt will remain the highest-cost debt most families have, he says. And it's likely to get even more expensive, since interest rates tend to rise when the economy recovers from a recession.
"Eliminating the 'gotcha' practices is an unequivocal win for consumers and something that is long overdue," McBride says. "But some of the other provisions will have the effect of limiting access to credit or increasing the cost of credit for all consumers, even the responsible ones."
---