Bernanke foresees 'difficult challenges' sustaining recovery
Remove Fed supports too soon, and the recovery may falter. Go too slow, and inflation or another 'bubble' could prove ruinous.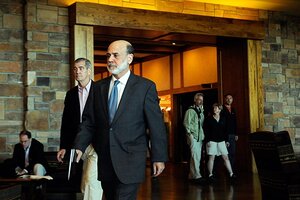 Price Chambers/REUTERS
The Federal Reserve faces a tricky balancing act ahead: how to make sure an economic recovery gains needed momentum, while guarding against inflation or another bubble-induced crisis.
Ben Bernanke, chairman of the Federal Reserve Board, acknowledged some of the difficulties in a speech Friday at a Wyoming conference for central banking officials from around the world.
"Although we have avoided the worst, difficult challenges still lie ahead," Mr. Benanke said. "We must work together to build on the gains already made to secure a sustained economic recovery."
Economists generally agree that, for now, sustaining a recovery is Job 1 for policymakers. Fears of a continued collapse in consumer spending have receded. But consumers and banks are still in fragile shape.
Need for a careful 'exit' from massive monetary support
The Federal Reserve's recent policy statements imply that its short-term interest rate for banks will remain near zero percent, probably into next year. But as the global economy gains a firmer footing, the Fed could come under pressure to implement an "exit" from the massive monetary support it has provided during the financial crisis, forecasters say.
"The [central bank's] transition from ultra-expansionary policy to a neutral stance may be very tricky," economists at the investment firm Morgan Stanley write in a report for clients this week.
Without a successful exit strategy, a return of inflation worries might push up private-sector interest rates or weaken investor confidence in the US dollar. Another risk is that, beyond inflation in consumer prices, the prices of assets such as commodities, stocks, or real estate could start surging again thanks to the Fed's open-spigot monetary policies. Asset bubbles have played a central role in the past two US recessions, and the Fed is weighing carefully how to avoid a repeat of the boom-bust cycle.
---