Home sales up in July, but 'for sale' glut is drag on market
Sales of existing homes rose 7.2 percent over June. But 4.1 million houses remain on the market, a jump over last month's level.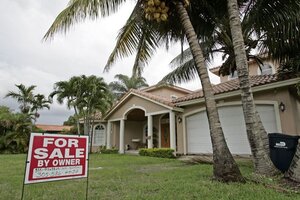 Alan Diaz/AP/File
The pace of housing-market activity enjoyed a big jump in July – rising for the fourth straight month – yet the inventory of unsold homes remains stubbornly high.
That news, reported Friday by the National Association of Realtors, suggests that more progress is needed before America's housing downturn will truly be over.
July saw a 7.2 percent surge in sales volume for previously owned homes, compared with June. Home sales reached an annual pace of more than 5 million units for the first time since the financial crisis deepened last September.
But the number of homes for sale stood at 4.1 million, up from 3.8 million in June.
Housing analysts say this unusually high level of inventory sends a signal that's part good news, part bad.
"This suggests to us that more homeowners are willing to test the market [and put their homes up for sale], as conditions appear to have stabilized," economists at Goldman Sachs wrote to clients. "If so, this is obviously good news in terms of a read on sentiment, but it also serves as a reminder that there is probably quite a large pent-up supply on the sidelines."
In fact, 29 percent of homeowners are at least somewhat interested in putting their houses on the market, according to a recent survey by Zillow.com, the online provider of housing-market information.
This large "shadow inventory" has grown during the past two years as many potential sellers wait for a better market conditions.
---