Can wind power save the Midwest?
Renewable energy isn't big enough to offset declines in the auto industry, but companies are gung-ho for any new business.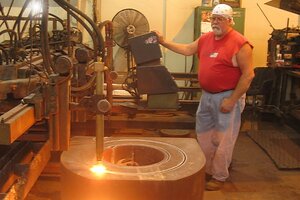 Richard Mertens
The hum and whir that rise from the factory floor at HPM America, a machining business in central Ohio, are the sounds of a company in transition.
In one part of the plant, workers bore holes in thick steel for a machine that will make car parts. Not far away, another worker guides a computer-controlled grinder that scours a bright ring on a massive globe of cast steel, which looms above him like the submersible capsule from a Jules Verne novel. It's a wind turbine hub.
Adam White, who tracks the grinder's progress on a glowing screen, and other HPM workers owe their jobs to a decision three years ago to shift from the car business, which was dwindling, to making parts for wind turbines. Without that, says Chris Filos, HPM's owner and CEO, "We'd have been out of business long ago."
The promise of wind and other forms of renewable energy has cast a ray of hope into an otherwise bleak economy, especially in the industrial Midwest.
"A couple years ago, there weren't that many people interested," says Edward Wolking, head of the Great Lakes Manufacturing Council. "Now they're just beating doors down."
For those hoping renewable-energy technologies will save the economy of the Midwest, there's a long way to go. Only 7 percent of US energy consumption last year came from renewables, and a June report by the Pew Charitable Trusts said the renewable-energy industry accounted for just 89,000 jobs in 2007.
---