Palm oil paradox
Meeting the demand for the ecofriendly fuel means burning rain forests. A new network offers a better way.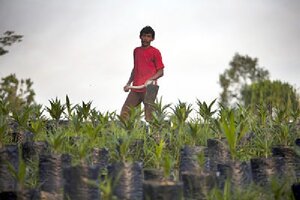 Robert Nickelsberg / Getty Images
[Editor's note: This story prompted a letter from the Jardine Matheson Group, which owns extensive palm-oil plantations in Indonesia. Excerpts are printed below.]
TRIPA SWAMP, INDONESIA – The surveyor mapping the rain forest below was so shocked that he couldn't speak. From the air it looked as if someone had bombed with white phosphorus. Plumes of smoke rose from the earth where 150-foot hardwoods lay like toothpicks. Nearby, formations of oil palm plantations advanced, precise as an army.
The shocked surveyor paused to catch his breath. "In a few years there will be nothing left," he said.
It's one of the ironies of the sustainability movement. In their push for everything from biofuel to ecofriendly shampoo, humans are killing Earth's great "lungs" and the habitat of endangered animals.
The reason is palm oil. Companies can't get enough of the "golden plant" grown in Indonesia and Malaysia to keep up with demand. So plantations are burning and clearing rain forests – often illegally, especially in this peat swamp in Aceh Province – to plant more palm trees.
Clearing the jungle belches carbon into the air and is pushing orangutans to extinction. Conservationists warn that the orange creatures may vanish within a decade or two. Now, a Malaysian-based network of 278 banks, nongovernmental organizations, and companies is pushing to end the destruction by adopting more ecofriendly standards.
It represents a first step in a very long journey for the prized vegetable oil that appears all over supermarket shelves – in detergent, soap, cooking oil, bread, candy bars, cosmetics – and, increasingly, in biofuels.
---