Home prices are up. No, down. No, flat. Where's the truth?
Latest Case-Shiller index shows monthly gains, though prices are down 15.4 percent from last June. But such barometers are not a one-stop guide to the housing market.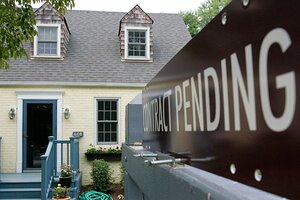 Richard Clement/Reuters/File
When you hear news about home prices rising or falling these days, it might be good to take the data with a grain or more of salt.
Here are the latest numbers to be released, for example: US home prices showed a 15.4 percent annual drop as of June, in the Standard & Poor's Case-Shiller index of 20 large cities, released Tuesday. The number suggests an improving real estate market, since the year-over-year price drop has been getting smaller for several months. Also, the index has risen on a month-over-month basis in both June and May.
The number is an important indicator, but analysts say neither this nor any other overall price barometer should be taken as a one-stop guide to the housing market.
For one thing, conditions in your neighborhood probably differ from national averages. For another, even as a US-wide rule of thumb, home-price indexes can be skewed by shifts in the types of homes sold – the recent mix is a bit different from the mix a year ago.
"All of the indexes suffer from what economists call the sample selection problem," says Patrick Newport, an economist at IHS Global Insight in Lexington, Mass. The indexes are based on transactions that occur, which aren't necessarily a representative mix of all existing homes.
---