For more hard-pressed Americans, a campsite is home
Camp grounds and tent cities become permanent addresses.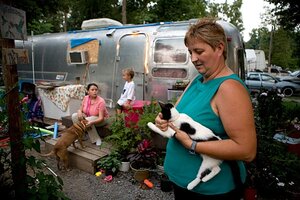 Melanie Stetson Freeman/Staff
A gravelly campground off Interstate 40 in central Tennessee is a last refuge for a hodgepodge of Americans: Here you can get a $275-a-month camping spot with a 30-amp electric outlet and a scratchy Wi-Fi signal emanating from "the bathhouse" down the lane.
"It's my permanent home – for now," says Terry Lee Ballard, who says he runs a small record label from his "tent condo," which is replete with "redneck engineering" such as a tent-flap air-conditioning unit.
As cities from Sacramento, Calif., to Tampa, Fla., debate the merits of tent cities to house newly homeless people (many of them young families), this recession is starting to yield scenes that evoke the Great Depression, especially at places like Timberline Campground in Lebanon, Tenn.
Living in well-worn campers and tent compounds overstretched with 20-foot-long tarps, 85 percent of residents here are permanent, a good chunk of them "economic refugees." It's an increasingly familiar scene across the country as campgrounds, RV parks, national parks, and city-owned pockets become inundated with permanent campers, and as entire tent cities spring up and expand, with some hinting at permanence by voting on village bylaws.
---