Marvel deal will build on Disney's Pixar model
Much of the response to the deal has been positive and appears to take note of the happy marriage that Disney has achieved with Pixar.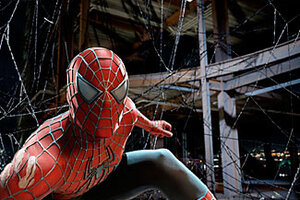 Columbia Pictures / Reuters
The headlines may be groan-worthy – "Spiderman caught in Mickey's web" and "An entertainment giant makes a hulking deal." But Monday's announcement that Walt Disney Co. will buy Marvel Entertainment Inc., the comic-book publisher, is being met with cautious optimism.
It's a good strategic move to combine Marvel and its popular characters with Disney, which has multiple outlets including theme parks and cable TV, says Arvind Bhatia, a senior research analyst at Sterne Agee in Dallas. "This will extend Marvel in areas Disney is strong in and expand opportunities for much greater character development by Marvel," he adds.
The $4 billion deal won't conclude until year's end and will have to overcome questions about possible antitrust violations. But everyone from comic-book fans to Hollywood producers is already pointing out the possibilities.
This will give Marvel much more leverage, says Michael Uslan, producer of the Batman films. "Particularly as the company begins to run out of first-tier characters, these kinds of resources will help with the second- and even third-tier ... characters down the line."
As the news broke Monday morning, Internet fan sites were awash in mostly positive commentary, says Ron Richards, co-founder of iFanboy.com. "It may be surprising," he says, "but the majority of response tended to be supportive of the possibilities the merger offers."
---