In observance of Labor Day: a progress report on jobs
The picture is slowly improving. But how well you're doing depends on your profession, where you live, and how old you are.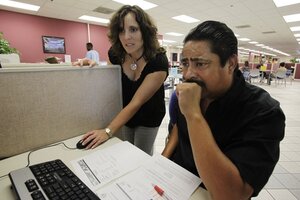 Paul Sakuma/AP
Labor Day 2009 is a great time to celebrate summer weather, family, and friends. As for the condition of the US labor market itself, perhaps the best that can be said is: It's no longer in a free fall. Some welcome progress is visible, but it remains a rough time for many workers in America.
Before you head out for beach trips and barbecues, here's a quick checkup on what's changing – from Las Vegas to Juneau, from wages to jobs:
Overall jobs trend
The number of jobs is still declining, but at a slower pace according to Labor Department numbers released Friday. The unemployment rate jumped to 9.7 percent, and many economists expect it will continue to climb for several months even as the economy starts to recover.
For those unemployed, Bernard Baumohl of the Economic Outlook Group identifies a glimmer of hope: The median number of weeks that unemployed Americans have been out of work fell to 15.4 in August from 15.7 in July. It was the second monthly drop in that indicator.
Jobs by geography
---