Uncle Sam wants you to save more money
Millions of Americans don't have a tax-sheltered savings plan. President Obama has announced new federal initiatives that would help you build a nest egg for retirement.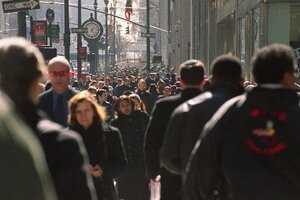 AP/File/Tina Fineberg
Attention American consumers. President Obama is advertising the virtue of putting your money to good use by saving, not spending. In his radio address to the nation Saturday, Mr. Obama announced a package of changes designed to help more workers set aside more money.
The idea may seem counterintuitive, at a time when the economy could use all the consumer spending it can get. But the steps come as many families are failing to save enough for their own retirement -- and as the nation could use more savings as foundation for sustainable economic growth.
Some 78 million Americans don't have a tax-sheltered savings plan linked to their employer paycheck. Others are struggling to tuck away more money now because the recession has depleted their net worth.
Nationally, low household savings coupled with huge federal budget deficits means that the country's overall savings rate is negative. Unless it turns positive, this means the nation must borrow funds from abroad to fund new investments in the economy.
Obama's moves, which don't require congressional approval, come on four fronts. The Treasury will:
• Make it easier for firms to automatically enroll their workers in 401(k) and other retirement saving plans, by streamlining the process for changing the terms of plans. Workers can opt out if they don't want to enroll, but by setting "save" as the default option more workers end up participating.
• Pave the way for employers to allow workers to convert their unused vacation or other similar leave into additional retirement savings.
• Offer a new way for people to save a portion or all of their tax refunds. In addition to the electronic deposit options that Americans already have, they'll now be able to roll tax-refund money directly into US savings bonds, skipping some paperwork steps with the US Treasury.
• Create a "road map" on the IRS to help workers and their employers better understand the available options for tax-favored retirement saving, including for rollovers from one account to another when workers change jobs.
---