To cut deficit, Arizona may sell its Capitol
The state could sell as many as 32 of its properties to help cover a $3 billion shortfall.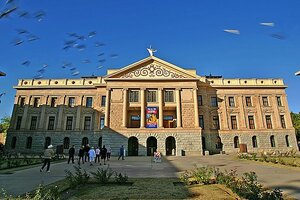 Matt York/ AP/ File
A state park with a spectacular limestone cave. A retirement home built in territorial days. Even state Capitol buildings in which laws have been crafted for a half century.
Piece by piece, Arizona is planning to sell off as many as 32 state properties to cover a historic $3 billion budget deficit. The state is in good company: California, Pennsylvania, and Connecticut are unloading state holdings, too.
It is an indicator both of the depth of the fiscal crisis facing states and the extraordinary lengths to which they will go to try to avoid steep tax increases.
In Arizona, the sales could put between $350 million and $700 million into state coffers this year – but it's a quick fix. The state would pay between $60 million and $70 million to lease back many of the properties, meaning the transactions will cost taxpayers more in the long run.
"It just shows how deeply the recession really has affected state finances," says Todd Haggerty, a research analyst with the National Conference of State Legislatures.
"Desperate times call for desperate measures," adds Linda Lopez, the Democratic House minority whip from Tucson.
---