Chinese firms' new challenge: Sell to Chinese
Jack Yin and other factory owners find it's not easy to sell to their countrymen.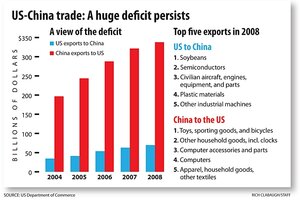 DONGGUAN, CHINA – Jack Yin's Western hopes are fading. He founded his small bath-products factory three years ago in a lonely industrial area on the outskirts of Dongguan with visions of Americans and Europeans snapping up his soaps, shampoos, and body lotions. When the economic crisis hit, 70 percent of his export orders evaporated.
"The impact has been huge," Mr. Yin says. So he's shedding his cut-rate offerings, betting heavily on lines of high-quality hair-care products that he hopes will turn Bath Concept Cosmetics into a brand that people learn to know and trust. Yin's target market? His fellow countrymen.
"When the foreign markets don't work, you have to change," he says.
All across South China's manufacturing heartland, entrepreneurs like Yin are turning inward. As Westerners buy less, Chinese companies are trying to sell their goods to a surging domestic marketplace that often doesn't even know they exist. It's a key to rebalancing a world economy that's dangerously out of whack, economists say. It's also hard.
Long accustomed to producing foreign-designed goods cheaply, many manufacturers are clueless about selling to their own compatriots. Or they're stuck with product lines, like toasters and sports bras, that have little appeal here. In January, the government estimated that around 20 million workers lost their jobs as foreign orders dwindled since the global downturn took hold. Dongguan alone has lost more than 500,000 jobs – 10 percent of its workforce – in the first half of 2009 compared with the same period a year ago. Exports are down nearly a quarter during the same period. A few high-profile factory closures – such as last year's sudden shutdown of Smart Union, a huge toymaker that supplied Mattel and Disney – have fueled fears that China's export-heavy economic engine was grinding to a halt.
---
Follow Stories Like This
Get the Monitor stories you care about delivered to your inbox.