US-China trade dispute about more than tires
The US tariff on Chinese tires could have a ripple effect. Trade disputes have been rising among other nations.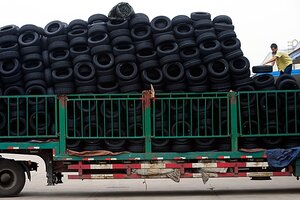 Reuters
President Obama has ratcheted up US-China trade tensions at a sensitive moment for the global economy.
The dispute in question centers around automobile tires, and the White House has sided with US manufacturing workers who say they are being harmed by rapidly rising imports from China.
The president's decision has implications for a fragile domestic economy: A new 35 percent tariff on Chinese tires could help some American factory workers keep their jobs, at a time when economists say America needs manufacturing industries as a core platform for future economic growth. But the move also promises to make US consumers – already struggling in the recession-battered economy – pay higher prices for tires.
Mr. Obama's decision in the tire dispute also has international implications, since no nations are more central to global trade than US and China. In broad terms, the global recovery from recession will hinge in part on rebuilding commerce, yet many nations face internal pressures to aid specific hard-hit industries. Such pressure could lead to more trade disputes.
"This is extremely worrisome. One only hopes that both sides will keep their heads," says Tu Packard, an expert on the global economy at Moody's Economy.com. Trade disputes have also been rising among other nations, she says.
---