Bernanke says recession is technically over
But the Federal Reserve head, Ben Bernanke, also warns that the economy will still feel weak, in terms of jobs and wages, for some time.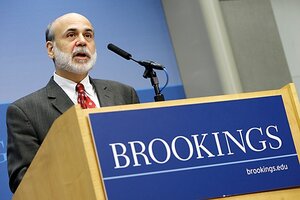 Haraz N. Ghanbari/ AP
The recession that began in 2007 is probably over now, the head of the Federal Reserve said Tuesday.
That doesn't mean good times are suddenly rolling again, but the statement by Ben Bernanke adds an official voice to a consensus that has been growing in recent weeks among economists.
Mr. Bernanke's assessment came in response to questions after a speech at the Brookings Institution in Washington.
"From a technical perspective, the recession is very likely over," he said. He said most forecasters believe the economy will grow in the current quarter and continue on an expansionary path into 2010 – but that they also expect a weaker-than-usual rebound in jobs.
Despite the careful qualifiers in his statement, Bernanke's comment may be as close to an official declaration on the subject for months to come. The turning points from recession to recovery are formally declared by a committee within the National Bureau of Economic Research, which typically makes its calls many months after the fact.
The phrase "from a technical perspective" is significant. Bernanke knows as well as anyone that what matters to ordinary Americans is not just the technical end of recession, but whether jobs are available and wages are rising.
"It's still going to feel like a very weak economy for some time. That's a challenge for us," Bernanke said.
Clash of views on 'jobless' recovery
He cautioned that economic forecasting is far from an exact science – a warning against viewing either upbeat or downbeat views as a foregone conclusion.
Some forecasters, for example, question the widespread view that the recovery will be a "jobless" one.
---