ECONOMIC SCENE: Afghanistan will cost US more than Iraq
Funding for war in Afghanistan will eclipse Iraq for the first time in next year's budget.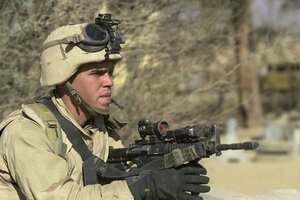 Scott Peterson/Getty Images
For the first time, the war in Afghanistan in the next budget year will cost Americans more than the war in Iraq. By the end of the next fiscal year, which starts Oct. 1, the total military budget costs for both wars will have exceeded $1 trillion.
That's more than the cost of the Vietnam War, adjusting for inflation, or any other US war except World War II ($3.2 trillion in 2007 dollars).
A trillion dollars is hard to imagine. Think of it this way: If you had an expense account good for $1 million a day, it would take 2,935 years to spend $1.071 trillion, which is the actual estimate for the wars' price tag by Travis Sharp of the Center for Arms Control and Non-Proliferation in Washington. He reckons the two conflicts will have cost the typical American family of four roughly $13,000 by next year.
Wars, even counterinsurgency conflicts, are expensive in lives and dollars.
---