Seven cities that surprised in recession
Akron, Ohio, and Pittsburgh have done unexpectedly well, according to a new ranking of the best and worst performing cities. One lesson: There's more to economic activity than housing.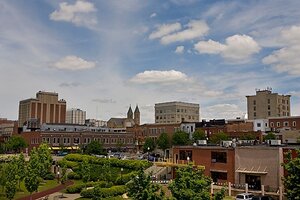 Melanie Stetson Freeman/ The Christian Science Monitor.
A new report tracking the US economy by metro areas finds that some cities are already leaving recession behind, while others remain mired in hard times. And the hills and valleys of economic performance aren't necessarily where you'd expect.
Of course, it's no surprise that the housing bust puts lots of Florida cities on the "worst-performing" list during the recession. But the Metro Monitor report, released Tuesday by the Brookings Institution, ranks Rust Belt icon Pittsburgh among the best performers in this recession.
Here's a list of seven surprising winners and losers culled from the report:
Winners
1. Akron, Ohio: job gainer. Five of the 100 largest metro areas managed to hold steady or add jobs in the second quarter this year, compared to the previous quarter. Akron stands out because it's in a state that most often makes economic news for its automotive job losses. Akron wasn't on anybody's "most likely to lead" list for the post-recession economy. The other job-gaining cities (up from two in the first quarter) were Buffalo, N.Y., Columbia, S.C., Madison, Wis., and McAllen, Texas.
---