401k plans revive from bear market wreckage
Average balances are now above what they were in early 2008, in the throes of the financial crisis, for most classes of account holders. But retirement income remains at risk for many.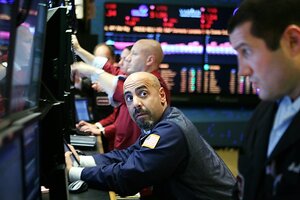 David Karp / AP
Many working Americans have clawed their way back from bear-market losses to rebuild their retirement savings.
That news, released in a report Wednesday, is impressive – since the stock market still isn't close to retracing its recession losses. Despite a strong rally since March, the Standard & Poor's 500 stock index remains about 32 percent below its pre-recession high.
Millions of Americans with 401(k) plans are still struggling, but their position is much better than it was just a few months ago. That's the message from numbers released Wednesday by the Employee Benefit Research Institute, which tracks employer-based 401(k) retirement plans.
The EBRI survey doesn't boil down its results into a single average for all 401(k) plans, but consider one important mid-career group: people who have been saving for 10 to 19 years with the same employer. Within this group, younger workers (below age 45) have average account balances that are 3 percent higher now than at the start of 2008, when the stock market was still near its peak. Workers over 45 tend to have account balances that are down since 2008, but by less than 4 percent on average.
That's a huge improvement since a similar EBRI study just before the stock market's recovery this spring. Back in late January, these same people had account balances that had declined more than 20 percent in a year, on average. That was true whether the account holders were below or above 45 years old.
The EBRI study broke 401(k) plans into 13 categories, and found that people in nine of those categories have average balances above the early-2008 levels, while four are still below. The worst-off group, people over 55 who have been saving for more than 20 years, have average losses of 8 percent.
A couple of factors explain the rebound.
That the rising stock market since March has helped a lot – boosting everybody except people who have chosen not to invest in equity funds.
---