Recession over? Five signs Bernanke may be right
A number of positive trends support the Federal Reserve chief's statement that the recession has "very likely" ended.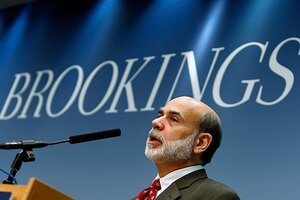 Jim Young / Reuters
On Tuesday, Federal Reserve chief Ben Bernanke pronounced that the recession "is very likely over."
What's the proof?
While there are still plenty who are skeptical that the downturn has ended, here are five positive trends that support a more optimistic view:
1. The stock market is acting more like a bull than a bear. The Standard & Poor's 500 stock index is now up 58 percent from its March 9 low. "Over the last sixty years, the market has bottomed a median of 5 months before the recession ended," says Sam Stovall, chief investment strategist at Standard & Poor's in New York. "That would mean the recession came to an end at the end of August."
2. New claims for unemployment peaked on March 28 when they hit 674,000. Now, they are down to 550,000. "Typically, after claims have peaked, the recovery is coming in four to eight weeks," says economist Bob Brusca of Fact and Opinion Economics in New York.
---