Billboard watchdogs clean up skylines
Aiming to clear out commercial clutter, billboard watchdogs from Rio to Toronto police outdoor ads.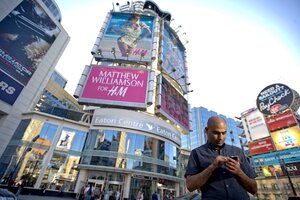 Ann Hermes/The Christian Science Monitor
Standing amid the assortment of new and old buildings in downtown Toronto, Rami Tabello clearly relishes his role as crusader: "Take a look at my handiwork," he boasts, pointing to a rectangle of discolored brick several stories high on the side of a building.
There's nothing there, nothing to see. And that's the point. Mr. Tabello whips out his iPhone and calls up a photo of what once occupied the space: a giant vinyl Bleu Forêt billboard of women's tights erected, he says, without a permit. That sign and more than 120 others in this city are gone now because Tabello successfully challenged their legality.
"Pretty cool, eh?" he says, continuing through his exhibit of absences on the sides of buildings – some older and lower, others newer, taller, shinier – where billboards once blared the messages of corporate giants.
Then it's on to the signs his organization is challenging: "I filed against that one," says the billboard watchdog, gesturing to a F.E.A.R. 2 video-game banner parallel to the street. (They've got to be perpendicular, he explains.) "It will come down eventually," he says. Of two H&M ads side by side, he says only one has a permit. A pair of Guinness ads high on a five-story building, meanwhile, "are just illegal in a million ways," he says.
---