ECONOMIC SCENE: China's investments pose a new global challenge
Within the next decade, China will become the world's largest equities market.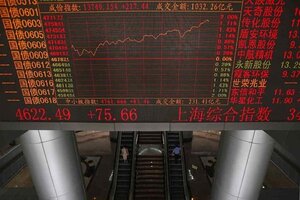 Tyrone Siu/Reuters
For a brief period in mid-July, China's stock market edged out Japan's as the world's second-largest exchange. Then, Chinese stock prices tumbled some 20 percent in August, putting Japan back on top.
But watch out. Within the next 10 years, China's stock exchange will zoom past not only Japan's market but also the New York Stock Exchange to become the world's largest equities market. That's the prediction of James Trippon, editor and owner of China Stock Digest.
China will also become increasingly important in buying up companies and assets abroad, he adds.
One can almost hear the alarm bells that will go off in Tokyo, London, and New York. Headlines will warn of unsettling trends like "China Tightens Grip on Rare Minerals." But they'll appear on front pages instead of the business section. Governments and economists alike will further ponder a new economic order.
Of course, the world has heard such predictions before. In 1967, Jean-Jacques Servan-Schreiber published "Le défi americain," warning that United States multinationals were buying up much of the world's productive assets. In the 1980s and '90s, concern shifted to Japan as its companies became top global competitors and its investors bought famous US properties.
---