G20 as world's top economic body? Doubts abound.
An expansive governing role for the G20, discussed Thursday by Britain's Gordon Brown, isn't passing the sniff test for many economists.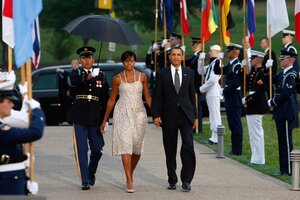 Jim Young/Reuters
G20 meetings are closed to the public and the press. The organization, so unstructured it has no secretariat, is often hard-pressed to get its members to agree on anything. The group of world leaders, moreover, is now holding only its third meeting.
But now Britain's Prime Minister Gordon Brown tells Reuters that the G20, meeting in Pittsburgh starting Thursday night, will become institutionalized as "the world's main economic governing council." "The G20 will take a bigger role in economic cooperation than the G8 has in the past," said Mr. Brown.
If the next two days do indeed bring that to pass, the result would be a greater voice in the world economy for rapidly developing nations, such as Group of 20 members India and Brazil, economists say. It might also mean that the G8, the group of major industrialized countries that is accustomed to deciding important economic issues, is on its way to becoming the Ford Edsel of international organizations.
In addition, the apparent plan, the details of which have not been made public, would almost certainly raise eyebrows – and probably more – from those who are suspicious of international governing bodies. (Remember the Tri-lateral Commission?)
"There are a lot of folks in various countries that take as a serious issue self-governance," says Chester Spatt, a professor at the Tepper School of Business at Carnegie Mellon University here. "They have concerns about ceding too much authority."
---