ECONOMIC SCENE: US can avoid Japan's 'lost decade' of deflation
While parallels exist, two American economists believe the US won't relive Japan's decade 'stuck in deflationary economic goo'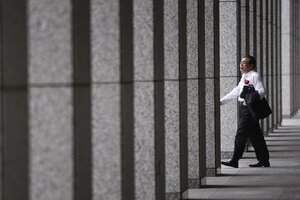 Yuriko Nakao/Reuters
At the height of Japan's real estate boom in 1989, property prices soared out of sight. Choice locations in Tokyo's Ginza district fetched $93,000 per square foot. Some said, perhaps exaggerating, that the grounds of the Imperial Palace were worth more than the entire state of California.
Then the bubble burst and, with a plunge in stock prices and a severe banking and credit crisis to boot, Japan spent most of the 1990s and into 2002 stuck in a deflationary economic goo – its "lost decade."
Does the same fate await the United States? Happily, no, two analysts say. Although the parallels with Japan are sobering, the severe US slump differs in terms of scale and speed of response.
"The Japanese bubble [in asset prices] was much larger," says Michael Hutchison, an economist at the University of California, Santa Cruz, and coauthor of "Japan's Great Stagnation," a 2006 book. "They had much further to fall."
---