Not safe from layoffs in this recession: the public sector
The unemployment report on Friday showed 53,000 fewer government jobs in September.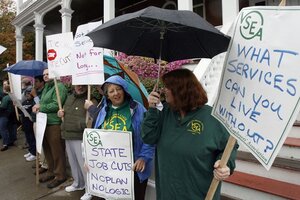 Toby Talbot/AP/File
In the two recessions prior to this one, working in the public sector pretty much guaranteed that you would avoid getting a pink slip.
But that's not true now.
From social workers in Massachusetts to teachers aides in California, pink slips are flying as states and local municipalities try to recover from recession-depleted coffers. The worst of the cuts is in housing-bust Western states, some Rust Belt states such as Ohio, and some hard-hit Northeast states such as Maine and Rhode Island.
At the same time, the rate of hiring is falling, and unions are scrambling to try to protect their most-senior workers.
The Labor Department's Friday report on jobs in September showed that 53,000 fewer government workers were at their desks compared with August.
But government layoffs are small compared with the private sector, which shed 210,000 jobs last month. Over the past 12 months, companies have axed 5.653 million jobs.
Not too long ago, working for the government – whether federal, state, or local – guaranteed a job even during a downturn. In the recession of 1991, government employment never dropped. As for the recession of 2001, government hiring did not drop until 2004, when some 31,000 government jobs were shed.
"There was a very long lag," says Nigel Gault, chief US economist for IHS Global Insight in Lexington, Mass. "But this is much worse than that."
---