Panic leads to dollar dump, investors seek refuge in gold
A report that top oil producing nations wanted to get paid in currencies other than the dollar made Wall Street skittish Tuesday.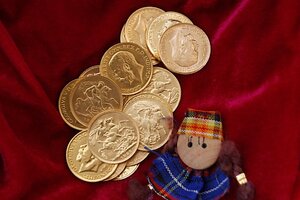 Ali Jarekji / Reuters
It has been a bad day – part of a bad year – for the US dollar.
The greenback got pummeled compared to a basket of currencies. At the same time, the price of gold moved to a noninflation adjusted all-time high of $1,039.70 as traders sought refuge from some of the global financial turmoil.
Behind the falling dollar and rising price of gold was a story – later denied – that some oil producing nations wanted to get paid with a variety of different currencies, not just the US dollar. But the real knockout punch for the greenback came after the Australian Reserve Bank, the nation's central bank, raised interest rates.
"It's another sign other economies are improving faster than the US," say Phil Flynn, director of research at Alaron Trading in Chicago. "If that's the case the dollar is going to be under pressure."
A falling dollar makes imports in the US more expensive but it also makes US exports more competitive. US Treasury Secretary Tim Geithner has recently said the policy of the US government is for a strong dollar.
So far this year, the US dollar is down more than 15 percent compared with six other currencies. "It fell apart in March when the Federal Reserve starting printing more money," says Mr. Flynn. "It's been trending down and everytime it looks like it's hit bottom, this kind of news slaps it lower."
---
Follow Stories Like This
Get the Monitor stories you care about delivered to your inbox.